2020*
2020 will be long remembered and forever marked with an asterisk.
We've lost friends, family, and many tenets of "normal" life. This virus has defied our dearly held and eternal illusory notion that we have control. It has ended livelihoods, businesses, and a portion of our children's innocence and optimism has been masked along with their delicate faces.
People of narrow vision and nostalgia for the never-was have pushed to divide us, to perpetuate systems that have for generations been built to lift some and to crush others: those that look different, those born with less affluence, those from the "wrong" countries or continents. Politics and media profit from contention and sensation while amplifying the internal tension in those of us seeking honest truth and honest leadership.
Yet, in a time of such headwinds, the human spirit pushes on.
Our primal instincts to survive and thrive drive us forward on turbulent seas into the unknown mist. Challenge is opportunity. We work, we dig in. Sometimes it looks like winning, other times failure; it is all temporary. We refuse to be conquered.
We seek connectedness. We seek peace in our thoughts and in our world. We seek knowledge. We seek adventure. We seek a life filled with beauty and experiences that expand our minds and extend our physical limits, proving to ourselves that we belong, our existence is relevant and honored.
We leave ripples in the lives of others - start with love, end with love, and take a stand.
Black lives matter. Equity, equality, living as you wish, loving as you wish, and pursuing your own spiritual path is a right and your duty, not only to yourself and those who look up to you, but also to humanity.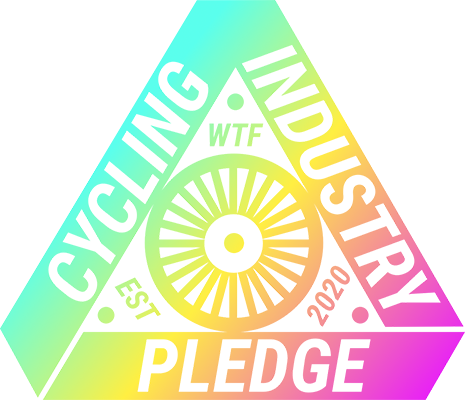 It is because of these beliefs, and our commitment to them, we have signed the Cycling Industry Pledge.
To learn more about the Pledge, why it was created, the guiding principles, and action it inspires, visit the CIP website.
The journey doesn't end here, it starts here.
If you come to us simply seeking great cycling products and services, we are grateful and will do our best to deliver even in disruptive times. If you come to us sharing a vision of adventure, challenging the status quo, helping lift others, openness, never-ending grit, honoring the underdog, and pursuing a life well-lived - we will ride with you into the dark.
Maintaining the expectations we have for ourselves as a business this year has been difficult. Maintaining the level of service, delivery, and expectation we wish to provide for you has been a battle between the chaos and our desire to bend disrupted demand, supply chains, delivery services, and capital to our will. We're not perfect. We work to be better. Thank you for your trust and patience.
We are not out to build a better bike shop or another gathering place. We're here to use the bridges of bikes, beer, coffee, food, art, and music to bring people together, even at times when the connection is more about mindset than physical proximity. Most of all, we're here for you, on the bike and off, and we have much to share with you in the coming weeks.
Peace and love,
Jason & The Method Crew